In my last entry, I revealed that, after a month and a half in the Coromandel, we'd finally sorted our finances and tax numbers. This allowed us to apply for jobs and… drum roll… BUY A VAN! Getting a van meant that we could go wherever we wanted and truly see all parts of this beautiful, diverse country.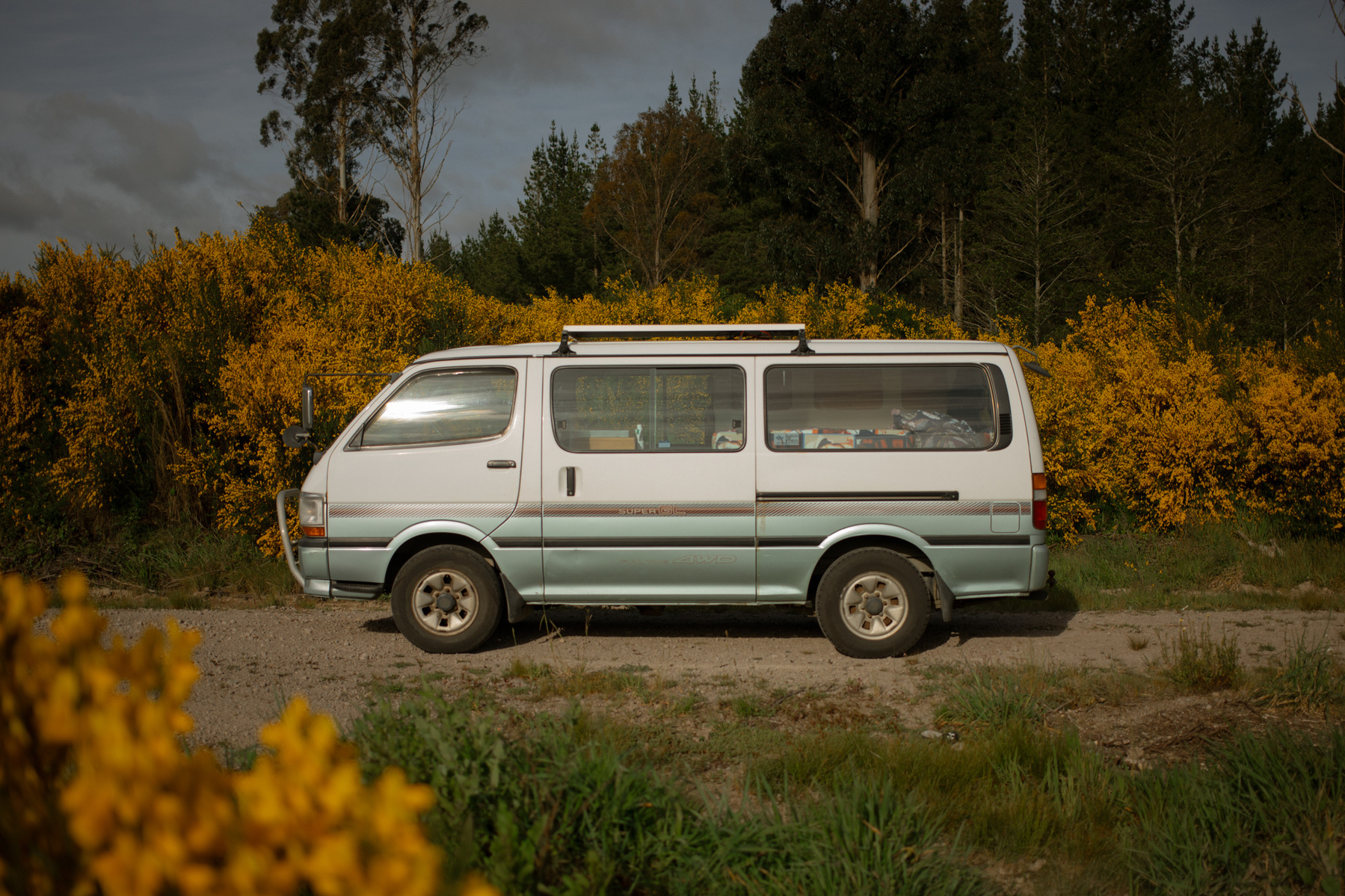 From Tairua – which is in the northern region of the North Island – we headed South. We accepted seasonal work at a hop farm on the South Island, so we needed to head that way but had plenty of time to explore on the drive down. Thus far, we had only seen Auckland, where we traveled the city by bus, and The Coromandel, where we basically walked everywhere, went on outings with new friends, and eventually got limited use of someone else's car. That said, the feeling of freedom we had with the van is indescribable.
It felt like we were living in the image we dreamt of before flying to New Zealand ♡
One of our first overnight stops was Rotorua, where we were taken back by a humongous cloud of steam rolling out of a city park. Rotorua is filled with geothermal activity and random steaming pools throughout town. I've never been in a place that just lives alongside natural extremes in such a casual way. Jace and I enjoyed a chill walk alongside the lake – you can see the mineral deposits on all the plants, giving everything such a unique look!
While still on the North Island, we also decided to reroute our drive to see Hobbiton. At this point, it was still spring in New Zealand, and I really wanted to experience the magic of Hobbiton while the flowers were in full bloom. Needless to say, it was 1000% worth it to drive a little out of our way. We did the movie set tour, which let us walk on foot throughout the village and experience everything up close. IT WAS SO CUTE. We also (of course) rewatched The Hobbit that night to see everything transferred on screen.
After a few more stops and a ferry from Wellington, we made it to the South Island. At this point, we drove straight to the hop farm to start working. Working on the farm was another rollercoaster that I'll write a separate blog about! We spent a month and a half on the farm preparing the hop vines for the harvest that would come in the fall.
After all that work, we hit the road again, heading to Christchurch to cat-sit for a couple of weeks and then make another road trip around the South. For this next leg of life on the road, we were basking in the sunshine every day and living with ease thanks to warm summer nights. If there's one thing that makes you question your decision to live in a van, it's the cold, for sure.
The South Island has a beautiful diversity that differs from the North, which is mostly green and tropical. We felt the hot sun even more in the dry desert terrain and high elevations. The landscape bears many drastic mountain ranges; you'll even find what Kiwis call the Southern Alps, which can easily compete with the Alps in Europe. There are also some of the most blue waters I've ever seen in my life! The gorgeous blue tones are due to the glacial water that runs down from all of the soaring mountain ranges.
The main thing we couldn't wrap our heads around while traveling the South Island was how quickly the terrain changed. We'd be driving through high desert, only to be in thick tropical forest within two hours. There is so much to see – it makes sense that traveling in a van or camper is so common in New Zealand. You just have to be on the road to experience the natural wonders revealed throughout winding roads.
There's still much to see and much to share, but if you've made it this far, I've taken enough time out of your day. After several months of a broken computer, I'm just thankful to have the time to go through my vast archive of photos and share a glimpse of what we've seen.
All in all, this was only the first few road trips in New Zealand while living in our van, and many have taken place since. So stay tuned for more island magic! I'm so thankful you're here ♡